My Blog
Posts for: April, 2016
By Ashley Lloyd, DDS
April 15, 2016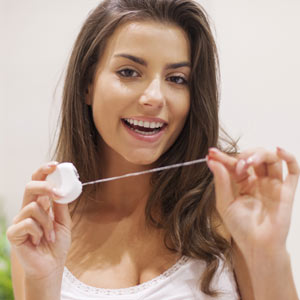 There are two basic facts about tooth decay: 1) next to the common cold, it's the world's most prevalent infectious disease; and 2) with modern dentistry, it's preventable.
Getting from Fact 1 to Fact 2 requires the daily hygiene habits of brushing and flossing. You probably learned these tasks when you could barely peer over the bathroom sink; but the real question is: are you getting the most benefit from your efforts? It's not merely doing them, but doing them the right way.
For example, bearing down on your teeth and brushing vigorously isn't just unhelpful, it's damaging. Instead, you should hold your brush with perhaps just two fingers at a 45-degree angle relative to your gum line and "gently" scrub with short circular or "wiggly" strokes. Continue this action around each arch brushing all tooth surfaces, which should take about two minutes.
Your toothbrush itself is also important: most people (unless otherwise directed by their dentist) should use a multi-tufted brush with soft bristles. If you brush with the proper pressure it should last 4 to 6 months before replacing it. You should also replace it if the bristles become worn or splayed.
Flossing once a day is important for removing the plaque between teeth your toothbrush bristles can't reach. The best technique is to form a "C" with the floss that wraps around each tooth and move it up and down gently three or four times until you hear a squeaky clean sound on both sides of the tooth.
The ultimate test of your efforts comes during your regular dental checkups. You can get a check now, though, on how you're doing by using your tongue to feel your teeth at the gum line. If they feel smooth and slick, you're probably doing a good job of plaque removal; but if they feel a bit rough and gritty, you're missing some of the plaque and need to be more thorough when brushing. You can also use floss by running it up and down the tooth surface — if it squeaks, they're clean!
Your particular dental condition may require specific treatment or the use of other dental products like antibacterial mouthrinses. But learning and practicing proper brushing and flossing is key to keeping teeth and gums healthy and disease-free.
If you would like more information on proper oral hygiene, please contact us or schedule an appointment for a consultation.
By Ashley Lloyd, DDS
April 05, 2016
What you need to know about dental crowns
Aging and general wear-and-tear can damage your teeth. All of a sudden, it seems your smile is broken and unsightly. It's time to think
about dental crowns to strengthen your teeth. You deserve to look your best and eat the foods you love without worrying about broken teeth. Dr. Ashley Lloyd in Raleigh, NC wants you to know what dental crowns can do for you and your smile.
Dental crowns strengthen your teeth by covering the visible part of your teeth with armor-like protection. You don't have to worry when you bite down because the strong crowns are shielding your teeth from biting forces. They literally hold your teeth together. Large metal fillings, on the other hand, can divide your teeth and weaken them, so that when you bite down, you can actually shear off a portion of your tooth.
Sometimes, if your tooth is severely damaged, your Raleigh dentist can place a metal post in your tooth, along with a metal framework, called a build-up. This build-up creates a firm foundation for your new crown.
Dr. Lloyd has several materials for your new crown, depending on location in the mouth and your personal preferences. She can help you make the decision that's best for you.
A full gold crown is the strongest crown. It is perfect for back teeth where you need biting strength, and the teeth don't show when you smile. Gold crowns are usually the least expensive type of crown.
Porcelain can be fused to the gold, creating a crown that is cosmetically beautiful and natural-looking, but still has the strength of gold.
A full porcelain crown is the most beautiful and also the most natural-looking. Unlike other crown materials, porcelain is translucent, just like your existing teeth. Porcelain crowns are ideal for front teeth where you want cosmetic beauty when you smile.
If your smile is broken and unsightly, it's time to take action. You need to strengthen your teeth with dental crowns before more damage is done. It's time to call Dr. Ashley Lloyd in Raleigh, NC and restore your smile to greatness. Call today!